Every TSP program is specifically designed to help Black entrepreneurs build sustainable businesses and create generational wealth. We teach you the latest marketing strategies to consistently increase your traffic, sales, and profit. Whether you're running your business part-time or full-time, our comprehensive programs are designed to take you from $0 to six-figures, six-figures to seven-figures, and seven-figures and beyond! Join the TSP Family––our community needs your business to become the economic powerhouse it was meant to be.
TSP Propel provides you with 50+ trainings, access to industry experts, copy & paste templates, and a supportive community of Black Entrepreneurs who will help propel your business to its first six-figures.
TSP Mastermind provides live coaching, sales funnel templates, Q&A calls, in-person mastermind sessions, VIP admission to our signature conferences, and one-on-one calls with TSP Experts to help you reach your first seven-figures.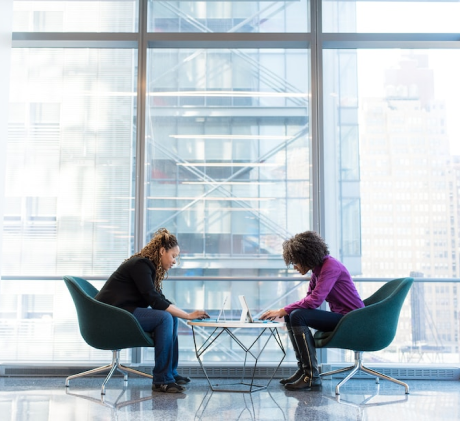 The TSP Collaborative provides direct access to TSP Co-Founder Lamar Tyler, annual project plan review with TSP Co-Founder Ronnie Tyler, exclusive retreats, and launch planning work sessions to help you scale beyond your first 7-figures.
The TSP Ascension Ladder is designed to provide Black entrepreneurs the necessary support needed to take your business from a part-time side hustle to a full-time enterprise that creates jobs, provides economic impact, and shifts the narrative in our community. Every step of the ladder offers access to essential templates, expert advice, and an engaged community to keep you going. The higher you climb up the ladder, the more intimate and personalized the experience and the community become.          
TSP Propel is a program for entrepreneurs who are just starting out or are struggling to reach their first six-figures in business. TSP Mastermind is the next step for entrepreneurs who have reached six-figures and are seeking to build a seven-figure business. TSP Collaborative is the highest level in the Ascension Ladder, and it's for entrepreneurs who've made their first million in business and seeking to work closely with our team to grow beyond the seven-figure mark.
Here's What's Inside TSP Programs
When it comes to serving our community of Black entrepreneurs, we don't take shortcuts. Our programs provide access to information, resources, and support needed to accelerate your business goals.
Every TSP Program offers expert insights on marketing, sales, copywriting, and many other valuable skills needed to run a successful business.
When it comes to launching and growing a business, time is of the essence. That's why every TSP Program provides templates to help accelerate your success.
We realize the importance of connecting with our members––in real time. That's why every TSP Program hosts live Q&A sessions to give active feedback and to receive active feedback from our members.
We don't refer to ourselves as the "TSP Family" for no reason. Networking is at the heart of what we do, and every TSP Program has its own exclusive community that members can tap into for quick feedback and accountability from like-minded peers.
Technology is changing at a rapid pace, and with each change comes a new set of rules. Every TSP Program offers access to updated content that provide the latest insights on the best business practices.
Exceptional Customer Service
Every TSP Program comes with access to a TSP Success Coach whose sole responsibility is to ensure the success of our members. This is one of many ways we reciprocate the support that our TSP Family gives to us.

Do I have to be in business for a certain length of time to join your programs?
No. Your mindset and ambition trump the length of time you've been in business. We've worked with business owners who have made $0 and those who've made $10,000,000+.  Whether you're a "wantrapreneur" or a seasoned entrepreneur, TSP Programs are designed to meet you where you are.
Which program is best for me?
TSP Programs are designed to support you at each phase of growth in your business.
If you're just getting started or haven't quite reached your first six-figures in business, TSP Propel is for you. If you've reached your first six-figures and want to expand to multiple six-figures or your first seven-figure milestone, TSP Mastermind is for you. If you're seeking to expand beyond your first seven-figures, TSP Collaborative is for you.
How much do the programs cost?
All of our programs are uniquely priced to reflect the current financial and future financial landscape of your business. As you move up the TSP Ascension Ladder, the investment becomes greater; however, your membership pays for itself because each new step up the TSP Ascension Ladder exposes you to more wealth-building opportunities.
What Is Your Refund Policy?
Each TSP Program has its own refund policy.  Please read the information below.
TSP Propel: Propel members have a 30-Day Money Back Guarantee and can cancel their membership anytime. 
TSP Mastermind & TSP Collaborative: Due to the competitive nature of these two programs and the resources allocated to properly vet, onboard, and support our members, we're unable to offer a refund for the cost of membership.